Moderator: Regnier (gunrunner)
Beginner
Posts: 2
Joined: Mon Sep 06, 2010 8:52 pm
Location: Killeen, TX
I have a Marlin 336 SC with serial # G1770 can any one give some history on this piece, i got it from my Great Grandpa years ago. What would this weapon be worth?
Marksman 1st Class
Posts: 247
Joined: Fri Jan 15, 2010 10:37 pm
Location: Union, Washington
I also have a 336SC with a G serial number that came from my Grandfather. G in the serial number is for 1950. SC was suppose to mean Saddle Carbine. This guns are pre-mMicrogroove rifling, hence the Ballard rifling in the barrel. Value depends very much on condition.
Bear 45/70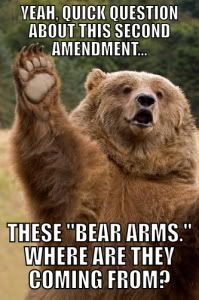 "My pistol and my rifle are merely the tools, I am the weapon."
Beginner
Posts: 2
Joined: Mon Sep 06, 2010 8:52 pm
Location: Killeen, TX
it i in excellent shape, but i lost the compass on the stock a few years ago hunting, aside from that it is in beautiful condition. I have no intention to sell it, gonna take it back to Fort hood training areas to hunt some wild hogs, was just curious as to how much it would be worth.