Armed with Brophys' book I posted this in regards to someone else posting about Marlin belt buckles over at MarlinOwners.com:
http://www.marlinowners.com/forum/gener ... uckle.html
Actually that belt buckle is not produced or endorsed by Marlin. Nice buckle none the less. Mr fixit
Taken from Brophys' book on Marlin:
Belt Buckles and Paperweights
Buckles. Marlin never authorized a commercial company to manufacture and sell a Marlin belt buckle. However, the company did authorize The Marlin Firearms Collectors Association, Ltd,- a non profit organization- to have manufactured and to sell two different variations of belt buckles.
The first type was a 2 1/2-in. diameter solid pewter buckle having The Marlin Firearms Co.- Since 1870 Marlin in a circle around the Marlin "Danger ahead" horse and rider logo.
The second type was a rectangular solid bronze buckle. It is 2" x 3" and accommodates belts up to 1 3/4 inches in width. This buckle also has the horse and rider logo centrally located over the Marlin Firearms Company name. The sculptor was the world-famous artist Joseph Di Lorenzo.
A total of 827 of the first type were manufactured and sold by the association. A total of 500 of the second type were struck. A special run of 103 solid sterling silver buckles of the second type were also produced.
They were sold only to Marlin employees and the members of the association.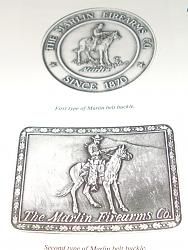 This is the buckle in question, does anyone here know anything about it? Thanks, Mr fixit